What can surprise you about the Tanix X4 set-top box?
Tanix X4 4/64 Smart TV Box is based on a quad-core Amlogic S905X4 processor and has an optimal configuration for use as a home media player. The TV box has sufficient RAM, dual-band WIFI, Bluetooth 4.2, and supports 1 Gbit/s Ethernet.
The set-top box is housed in a traditional case and is equipped with an information display on the front. The main feature of the set-top box is the new S905X4 SoC, capable of playing modern AV1 video codecs. The processor is manufactured using a 12nm process with ARM Cortex-A55 cores with low heat dissipation. The set-top box core operates at up to 2 GHz paired with the Mali-G31 MP2 graphics processor.
The Tanix X4 includes 4GB of DDR3 RAM and 64GB of eMMC for files and applications, which can be expanded with a MicroSD card. The Android 11 operating system is characterized by efficient use of device resources and increased performance.

Tanix X4 4/64 smart set-top box.
Tanix launched the 2022 TV set-top box, which combines the best features and specifications. This compact device has a built-in digital display on the front panel that displays basic information. The Tanix X4 has a powerful processor, plenty of memory, a certified operating system, and six interfaces. We recommend buying this set-top box to take advantage of all its benefits.
The tanix x4 smart set-top box gives users a number of features
This Tanix device will allow you to turn your ordinary TV into a multimedia center with high-quality sound, image, and unlimited internet access. Moreover, it is available at a reasonable price. With its help, you can:
Use social networks.
Watch movies in online cinemas.
Download applications and play games.
Despite being equipped with a quad-core processor, the device does not overheat or slow down thanks to good case ventilation. The box also supports one of the latest AV1 codecs, allowing you to view videos in high quality with minimal internet traffic consumption.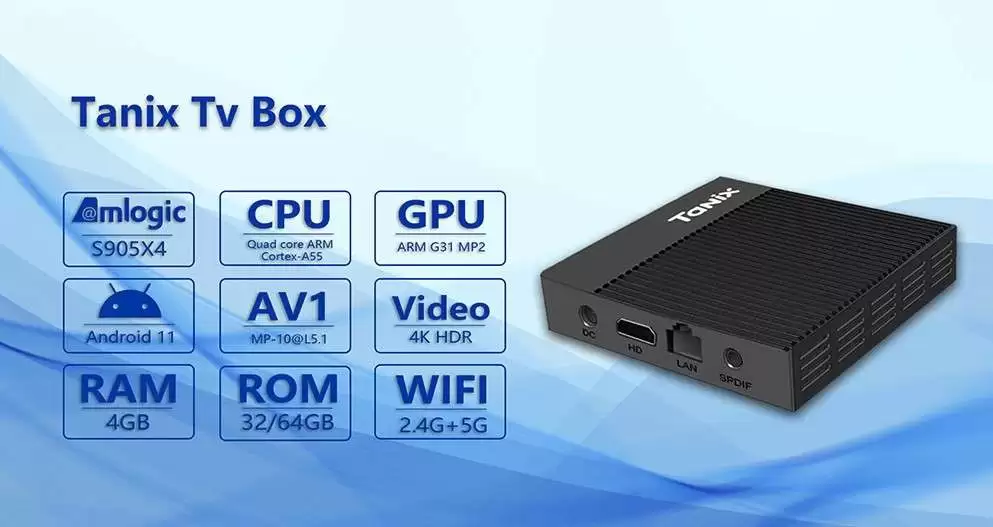 The device supports 2×2 Dual Band WIFI with internal antennas and Bluetooth 4.2. USB 2.0, USB 3.0, Audio SPDIF, Ethernet and HDMI 2.0 video output are located on the device.
The power supply, hdmi cable, and IR remote control are supplied with the set-top box.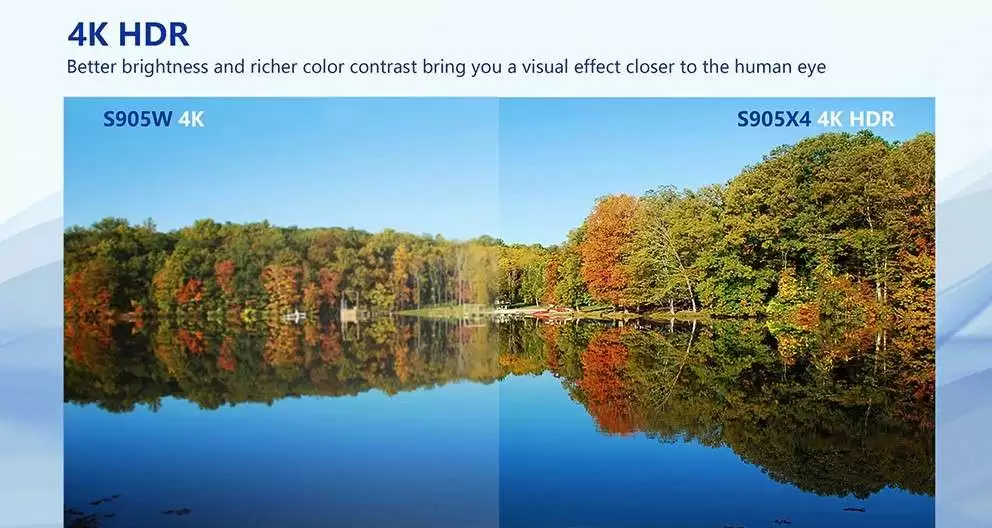 Function & Features
Basic parameters
CPU
Chipset
Amlogic S905X4
Architecture
Quad Core ARM Cortex A55
GPU
Chipset
ARM Mali-G31 MP2
Architecture
OpenGL ES 1.1/2.0/3.2, OpenCL 2.0, Vulkan 1.1 support
RAM
Capacity
4GB
ROM
Capacity
32GB/64GB
External storage
USB Storage Devices
USB2.0, USB3.0 Support
Micro SD card
Supported
SoftwareSoftwareSoftwareSoftware
Operating system
OS Version
Android 11
Language
Multi-Language
Multimedia
Video
Amlogic Video Engine (AVE) with dedicated hardware
decoders and encoders
Support multi-video decoder up to 4*1080P@60fps
Supports multiple "secured" video decoding
sessions and simultaneous decoding and encoding
Video/Picture Decoding
VP9 Profile-2 up to 8Kx4K@24 fps
H.265 HEVC MP-10@L5.1 up to 8Kx4K@24 fps
AVS2-P2 Profile up to 8Kx4K@24 fps
MPEG-4 ASP@L5 up to 1080P@60fps (ISO-14496)
WMV/VC-1 SP/MP/AP up to 1080P@60fps
AVS-P16(AVS+) /AVS-P2 JiZhun Profile up to
1080P@60fps
MPEG-2 MP/HL up to 1080P@60fps (ISO-13818)
MPEG-1 MP/HL up to 1080P@60fps (ISO-11172
RealVideo 8/9/10 up to 1080P@60fps
Multiple language and multiple format
sub-title video support
MJPEG and JPEG unlimited pixel resolution
decoding (ISO/IEC-10918
Supports JPEG thumbnail, scaling, rotation
and transition effects
Supports *.mkv,*.wmv,*.mpg, *.mpeg, *.dat,
*.avi, *.mov, *.iso, *.mp4, *.rm and *.jpg file formats
Audio
Supports MP3, AAC, WMA, FLAC, Ogg.
Image
HD JPEG, BMP, GIF, PNG, TIF
Network serviceNetwork service
Wi-Fi
Type
Support WiFi IEEE 802.11 b / g / n / ac
Frequency
Support 2.4G and 5G
Antenna Type
Two external antennas
BT
BT
Support BT4.1
Interface
Charge
DC connector
DC IN(5V/2A)
Video output
HD
4K*2K UHD Output, HD 1.4/2.0
IR Reciver
3.5mm Earphone jack
Remote Reciver Connect
Micro SD
External memory
Support
USB port
USB host
1* USB3.01*USB2.0
Ethernet
Ethernet
100M Ethernet